Facebook Live Video: The Complete Guide to Live-Streaming for Business
:
Facebook Live Video: The Complete Guide to Live-Streaming for Business
Presidential debates. Car chases. Sketch comedy TV shows. What do they all have in common? They're all best enjoyed live.
And where better to stream your live broadcasts than the biggest social network of all? No social network is used more—or by more people—than Facebook. The social giant introduced its own live video feature, called Facebook Live, at the end of 2015 and the prominence of video streaming on the platform has only grown from there.
What is Facebook Live?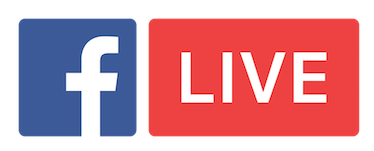 While video has always been popular online, the dominance of social media and the rise of mobile usage has all but ensured social video's position as the reigning monarch of content. Users continue to produce—and watch—more video at greater rates than ever before.
What you should know about social video:
What you should know about Facebook video:
Beyond the popularity of social video in general, Live video brings with it specific benefits.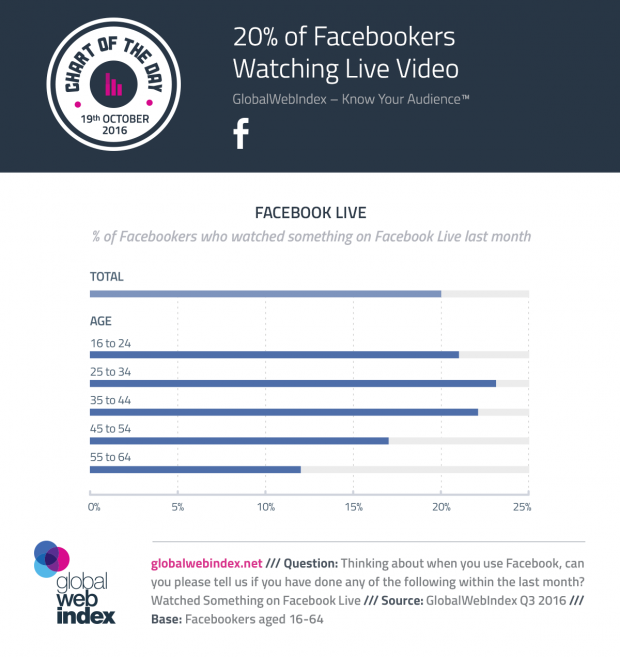 In other words, there are plenty of good reasons to give Facebook Live video a try.
Difference between Facebook Live and other live-streaming options on social media
Facebook Live is far from the only option out there. Here's a look at the other platforms offering live-streaming options.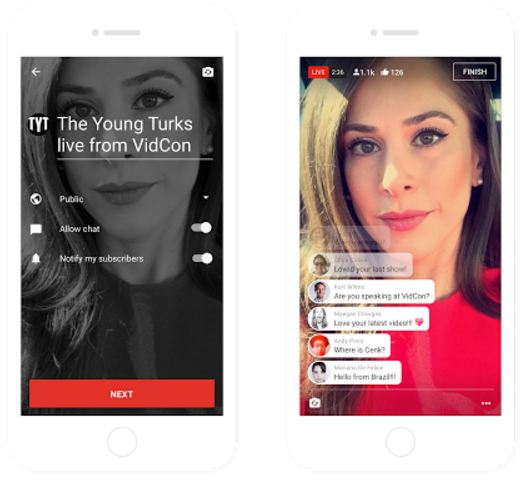 Stream Now
Stream Now is the simplest way for users to share live video on YouTube because the platform automatically detects the stream resolution and frame rate. During the broadcast, users can interact with their audience via live chat, view real-time analytics, and monitor the stream. Users can choose to archive the footage to save it for later.
Events
The Events option gives users more control over their broadcast. YouTubers can select privacy options, set a start time for their broadcast, and enable a backup stream (for redundancy). They can also create multiple live events and stream them simultaneously.
YouTube live-streaming is the best fit for people or brands whose audience is primarily on YouTube. It can also work well for brands who'd like to share their broadcast across several platforms, as the link can easily be shared on the network of their choosing.
Periscope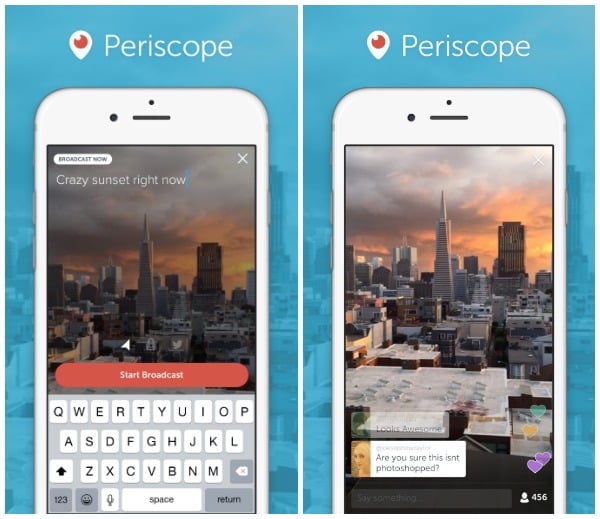 The primary difference between Periscope and Facebook Live is the network. Periscope is the live-streaming option for Twitter users while Facebook Live, of course, lives on Facebook.
Facebook Live features
Notifications
Because Facebook Live is considered a distinct content type (and one that Facebook is actively encouraging), it has its own notification system. By default, users' Live video notifications are set to 'on'.
If a user is particularly interested in Live video from a particular broadcaster, they can choose to subscribe, which means they'll be notified any time that broadcaster goes Live.
Invite friends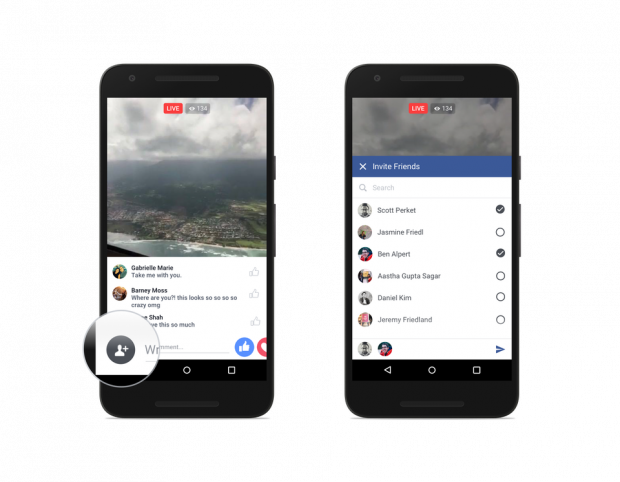 Maps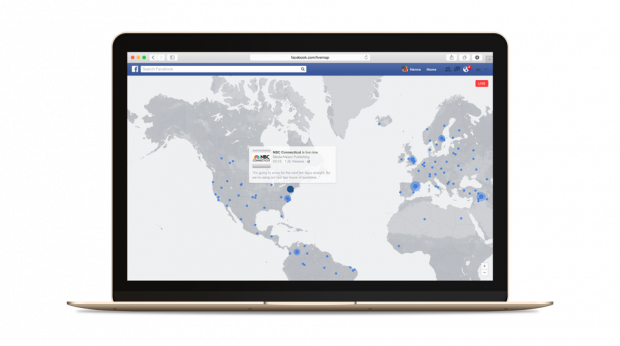 The map displays all live broadcasts currently happening around the world, each one represented by a blue dot, with larger dots indicating more popular broadcasts. Hovering over a dot pulls up a preview of the stream, including a counter showing how many people are currently watching it, and a timer showing how long the broadcast has been playing. Users can choose to zoom in to explore broadcasts in more specific areas.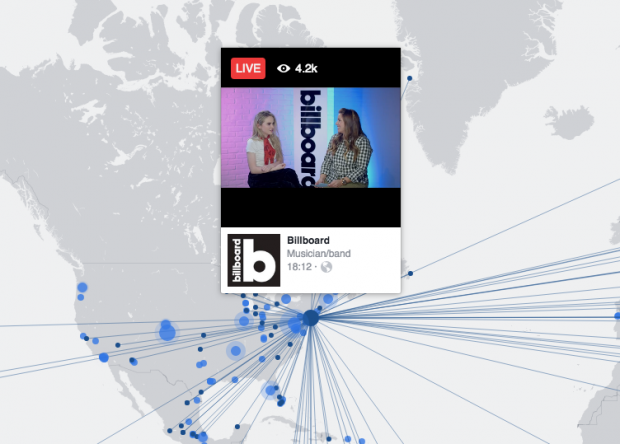 Additionally, a panel to on the left side of the screen features a list of the most popular current live broadcasts. As with the dots, hovering over one shows both where the broadcast originated and where people are streaming it from.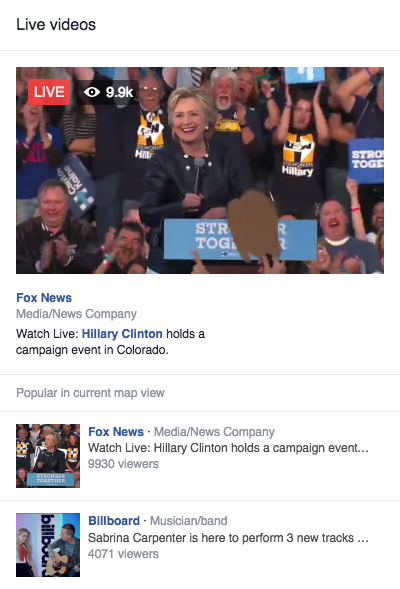 Live Reactions
Facebook users can, of course, react to any post on the platform using the six emoji-like Reactions to highlight their response. But Facebook Live takes things one step further by allowing a broadcast's audience to react to the video stream in real-time, with Reactions appearing on the video itself as they're clicked by the audience.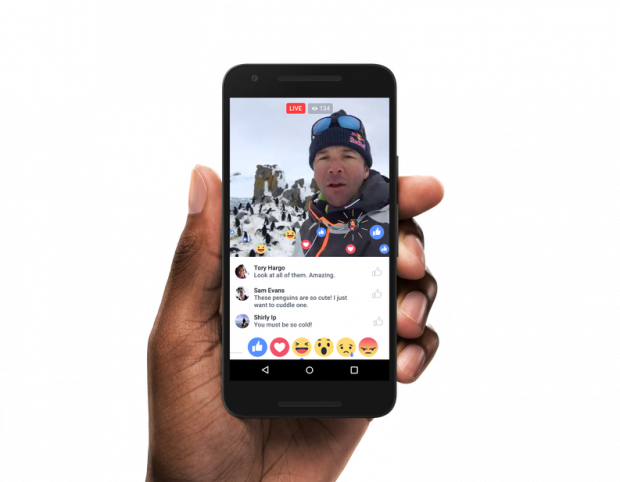 Filters
Broadcasters have the option to add a filter to their live stream. There are five options to choose from. While Facebook announced on April 6, 2016—the same day they introduced filters—that they would soon add the ability for broadcasters to draw or doodle on their video while live, this feature is not yet available.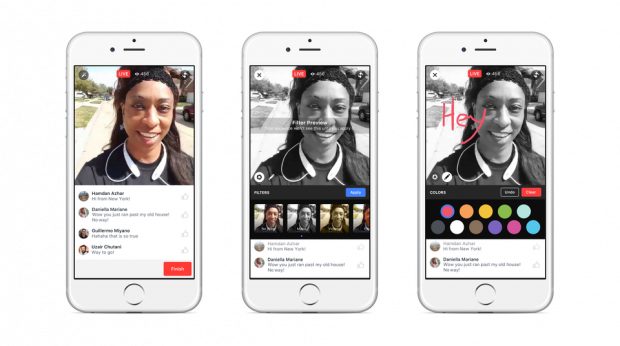 Begin recording a broadcast
Tap the magic wand icon
Scroll left to view all filter options
Tap a filter to select it
It's important to note that you will be live while selecting a filter.
Masks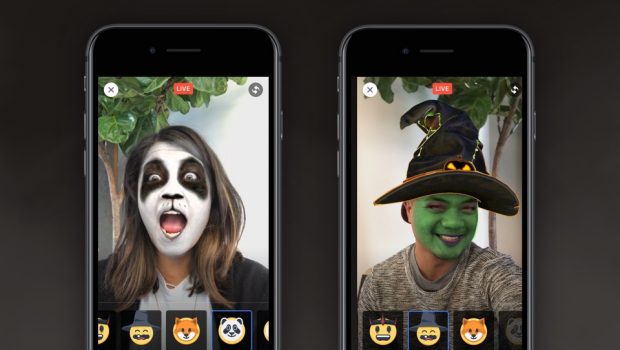 Tap the Live video icon to begin recording a broadcast
Once live, tap the magic wand icon
Select the masks icon in the creative tools tray at the bottom of the screen
Scroll through the options and tap on masks to have them automatically appear on your face
To remove the mask, scroll to the far left and tap the no mask option
It's important to note that you will be live while selecting a mask.
Facebook Live API
The Live API also enables features like camera switching, instant replay, on-screen graphics, and special effects. Using the API, publishers also have the ability to stream other sources, like games or screencasts.
For example, video game company Blizzard Entertainment used the Live API to enable gamers to live-stream their gameplay directly to Facebook from within the game.
Continuous Live streaming
Schedule Live broadcasts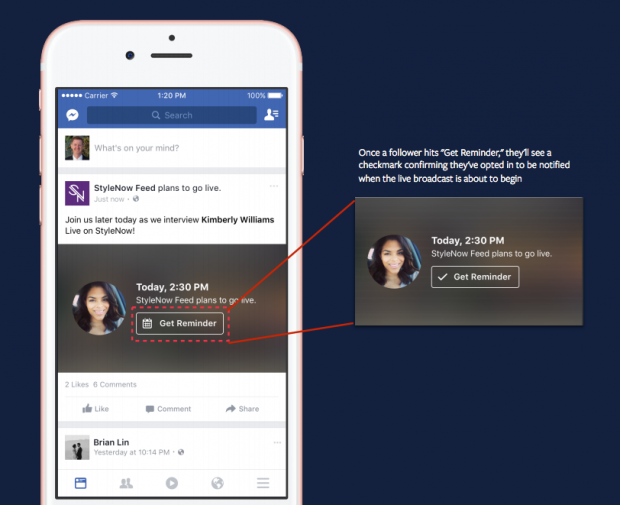 Users who see the post can choose to receive a one-time notification that will remind them shortly before the broadcast begins. Fans can then join a pre-broadcast lobby where they can connect and interact with other viewers before the Live video starts.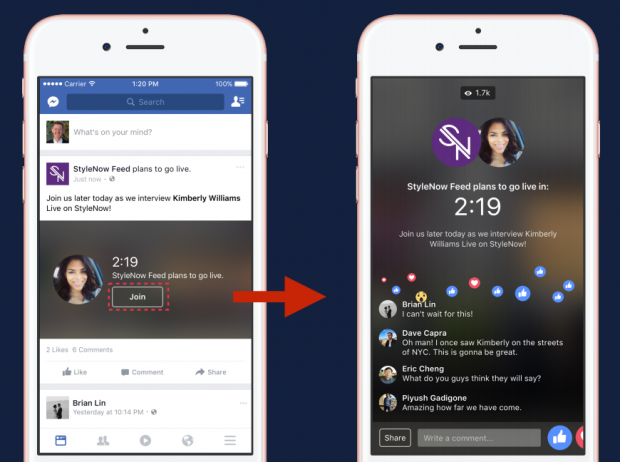 Publishers can schedule Live broadcasts up to one week in advance and audiences can join a lobby three minutes prior to the start of the broadcast. Another bonus? Once publishers have scheduled a Live video, they're able to share a link to the broadcast or embed it in other places, such as websites or blogs.
Facebook announced scheduling and lobby functionality on October 18, 2016. It was made available to Verified Pages later that week and Facebook said they planned to open it up to all Pages in the following weeks.
Ability to share in a group or event
Facebook Live video can be broadcast from a Facebook profile and Pages. It can also be shared directly in a Facebook group or event, giving users plenty of live-streaming options.
Metrics
For Pages, Facebook offers several different metrics to measure the success of their live video broadcasts.
Peak concurrent viewers
The highest number of viewers who were watching the video while it was live.
Viewers during live broadcast
A visual representation of the number of viewers during each moment of the live broadcast.
Ads
It's not clear at this time whether Facebook will move ahead with implementing this more widely.
How to use Facebook Live
Live broadcasts can be identified by the red icon in the top left-hand corner of the video. The word "Live" will be written next to the icon, along with the number of current viewers.
Tap on Update Status
Select the Live Video icon
Write a description
Choose the audience you'd like to share with
Go live
During the broadcast, you'll see the number of live viewers, the names of any friends who are tuning in, and a real-time stream of comments. Once you've ended your broadcast, the post will save to your Timeline like any video.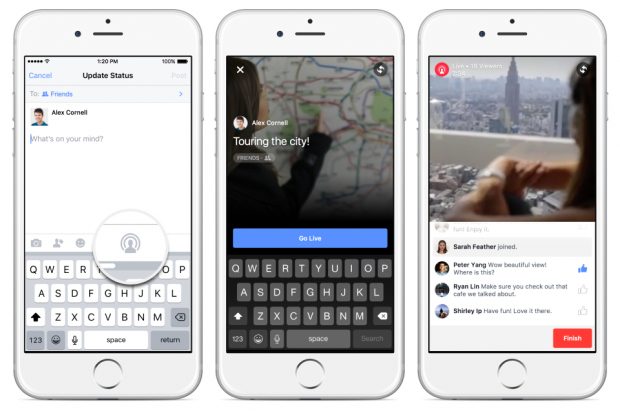 Live broadcasts can be up to 90 minutes long.
How to schedule a Facebook Live broadcast
On your Page, go to Publishing Tools
Select Video Library and then Live
Copy stream credentials, such as stream key and server URL
Write your announcement post
Finalize your scheduled Live broadcast
Click Schedule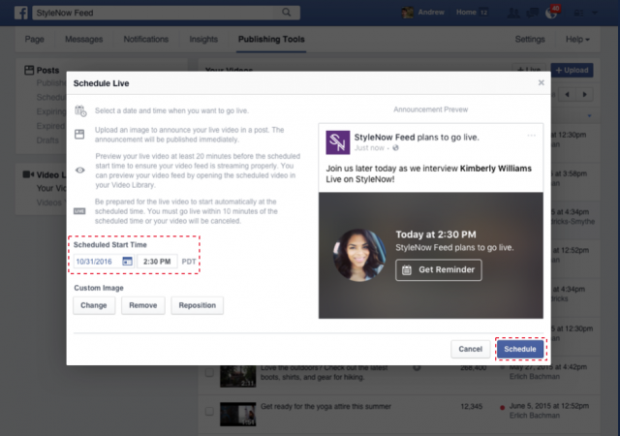 Where to find Facebook Live broadcasts to watch
You can also choose to receive notifications from Pages you follow. By default, this setting is set to on.
Click the drop-down arrow in the upper right-hand corner of the screen
Select Settings
Click Notifications on the left-hand side of the screen
Click On Facebook
Scroll down to Live videos, then choose your desired setting from the three options in the dropdown: On, Suggestions off, and All off

Tips for using Facebook Live
1. Plan your broadcast
Broadcasting live, by its very nature, means you can't plan precisely what's going to happen. But that doesn't mean you should just wing it. Like any type of content online, Facebook Live broadcasts should have a purpose.
Before you begin streaming, ensure that you've taken some time to think about what your broadcast's about, what you want to say (or do) in it, and why it makes sense as a Live stream as opposed to some other format of content.
2. Let people know when you're going to broadcast
You wouldn't hold a party and not invite anyone, would you? Your Facebook Live broadcast is like any other event: if you want anyone to show up, you've got to let them know it's happening.
Obviously you'll want to post about your upcoming broadcast on Facebook, where you can encourage people to subscribe to your Live videos. But you can also promote your stream on your other social channels. Just make sure you're clear about where and when people can tune in!
3. Make sure you have a strong connection
4. Write a compelling description before going live
Your description tells people what your video is about. A good one captures the audience's attention and a bad one—or worse, none at all—makes it all the more likely they'll keep on scrolling.
Use your description to tell a story. Give context about what your broadcast is about and be sure to make it clear why people would want to watch.
5. Tag your location
Add your location to your Live video so it shows up on the Facebook Live Map and gives you a greater chance of having it discovered by new viewers.
6. Ask viewers to follow you
Getting audience members to subscribe to your Live videos is the simplest way to ensure future viewers, because subscribers receive notifications every time you go Live. While broadcasting, take a second to let viewers know about the feature and tell them how they can subscribe to your videos.
7. Respond to comments
8. Broadcast for longer periods of time
The longer you continue your broadcast, the more time people have to discover your stream, watch it, and invite their friends to join in.
9. Show exclusively Live content
While it's possible using the Facebook Live API to insert previously recorded video into your live stream, Facebook recommends showing exclusively live content during Live videos.
10. Be creative
The more often you go Live, the more likely you are to stay top-of-mind. Try out different types of broadcasts to see what resonates with your audience. And don't be afraid to get creative with your stream.
Ideas for Facebook Live content
1. Hot topics
When something's on everyone's minds, it can be worthwhile for your brand to dive into the conversation. Though, as with any kind of trendjacking—whether it's the holidays or the latest craze—it's crucial to only hop on board if what you have to say is relevant and useful.
The moderator read out questions from commenters, which were then displayed on the screen. The panel of college stylists dished out advice and discussed solutions. The stream has accumulated more than 38,000 views since its debut.
2. Interviews and Q&As
The interactive nature of Facebook Live means the platform was practically made for Q&As.
All brands need to try out this format is a host, a willing and interesting guest, and a mobile phone or camera to broadcast with. The audience can join in and ask questions in the comments, making the experience interactive.
It received more than 1.3 million views.
3. Breaking news
If you're a journalist, publisher, or other media organization, then you already know when and how to live-stream breaking news. But for brands, it's a little different.
4. Performances and live events
Whether it's a conference or concert, Facebook Live is a good home for events. It opens up the experience to a wider audience, broadening the scope of your event.
The stream racked up over 1.2 million views.
5. Behind-the-scenes
Behind-the-scenes content is popular on a number of social channels, particularly when it comes to social video. Facebook Live takes things one step further by giving the audience the opportunity to interact, ask questions, and influence the direction of the broadcast in real-time.
What sets Callaway's livestream apart was the camera operator's efforts to engage viewers throughout the stream. Around the five minute mark, he thanks the audience for tuning in and puts out a call for questions or requests for what the audience would like to see. Later on, about 20 minutes in, he reintroduces Doc and his relationship to Palmer for viewers who had just tuned in.
6. Demo
Live can be a great way to show off your products and how to use them.
7. Announcements and campaign launches
Going Live for a big announcement or the launch of a campaign can be a good way to build anticipation for whatever it is you plan to tell your audience. Be sure to tease the live-stream in advance and let fans know to tune in for some big news.
Dunkin' Donuts' social media manager, Melanie Cohn, told Marketing Land that the session racked up 21,000 viewers in only 13 minutes. She said the company saw one of their highest average view times ever on their Live video as compared to pre-recorded video.
8. Series
If you have an engaged audience and it fits your marketing goals, one option to consider is creating a T.V. show-style broadcast that you run on a regular basis.
Frequently asked questions about Facebook Live
How do you broadcast live video on Facebook?
To start a live broadcast on Facebook:
Tap on Update Status
Select the Live Video icon
Write a description
Choose the audience you'd like to share with
Go live
How do I get Facebook Live?
Facebook Live video is available to all Pages and profiles on Facebook for iOS, Android, and the Facebook Mentions app. Additionally, Facebook Live broadcasts can be streamed in Facebook groups and events.
How long does a Facebook Live video last?
Facebook Live broadcasts can last up to 90 minutes.
What is going live on Facebook?
Going live on Facebook means beginning a live broadcast that can be viewed by Facebook users around the world.
'via Blog this'